Productos
Dorado- 4WD Utility Mobile Platform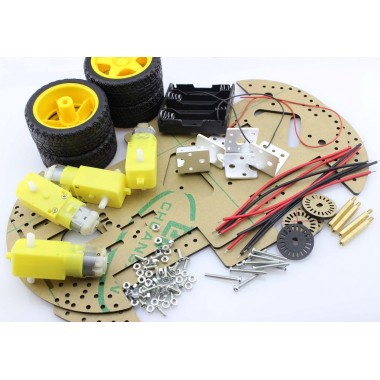 Excelente plataforma de cuatro ruedas motorizadas para montar robots.
COD: ERPL11304WD
Peso: 0.550 Kg
Disponibilidad: En Stock

ARS 1021.00
El producto no está disponible para la venta en este momento
Características
This 4WD Utility Mobile Platform – Dorado is easy to build and cheap, it is the best platform for you to build your first mobile application. The Dorado platform consists of Dorado skeleton that made of Acrylic board, gear motor, wheel etc. Besides, there are also 4 circular grid board made by Acrylic, with a laser or infrared emitter and sensor, it would be possible to measure the speed of the platform. There are also 2 kinds of motors for your different requirements, you can select the 50 r/min and 125 r/min version in your order, the default would be the 50 r/min. Note that the Dorado Skeleton board is black acrylic, remove the yellow protect paper before your installing.
Partlist
Dorado Skeleton;
High Quality Wheel x4;
Motors x4;
Battery Holder x1;
Wheel Coupler x4;
Standby x4;
Circular Grid Board x4;
Screws, Nuts and Wires
Comentarios
Escribir Comentario
OpenHacks
(26/08/2015 - 15:10)
Hola Pablo, tenemos uno en stock. Saludos!
Pablo Ramos
(25/08/2015 - 21:25)
Hola. Quisiera saber si tienen stock de este articulo Dorado- 4WD Utility Mobile Platform.