Productos
5A 75W DC-DC Module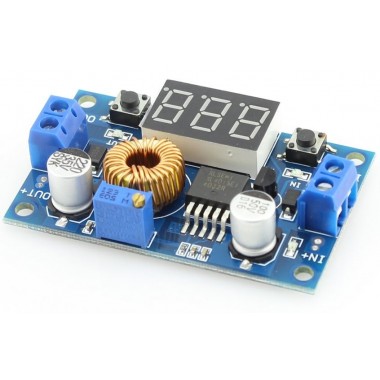 Fuente conmutada de tipo step-down (reductora) de 5A de corriente máxima de salida. Convierte tensiones de 4V~38V a 1.25V~35V, posee display para mostrar el valor actual de tensión.
COD: EPC0575DC
Peso: 0.030 Kg
Disponibilidad: En Stock

ARS 1003.00
El producto no está disponible para la venta en este momento
Características
This module integrated a volage meter with the DC-DC converter – XL4015, with this module, you can monitor your project much more easier. The voltage meter can measure the input voltage or output voltage, which is adjustable by the protentiometer, with a precision of ±0.1V. Note that the voltage meter would not work if the input voltage below 4V. Press the button (right) to switch voltage to measure, between the input voltage and output voltage. There are 2 LEDs to indicate which voltage is measuring by the voltage meter. And it has a Power indicator LED (GREEN). You can change the input or output voltage measurement by Short press the button on the right side ,and also can close the voltage meter by pressing the button on the left side. This module can be also calibrated manually as following method:
1. Power up the module with a stable and accurate power supply , such as a 5V power supply, then shot press the button on the right side to select which one do you need to adjust (input or output), and long pressing (press time > 2S) the button(right) makes the module enter the calibration model, after releasing the button, the related LED would blink to indicate which voltage is now calibrating, and the numeric display blinks the correction value.
2. Short press the button to change the correction value, Short press the button on the right side, voltage increases one unit, Short press the button on the left side, voltage reduce one unit, for example, if your power supply is 5V, but the result of voltage meter is 4.8, you need to set the value to 5V.
3. Long press button on the right side(press time ≈ 2S), to store the voltage correction value.
4. Calibrate the output voltage in the same way above; The correction value will be stored in nonvolatile memory.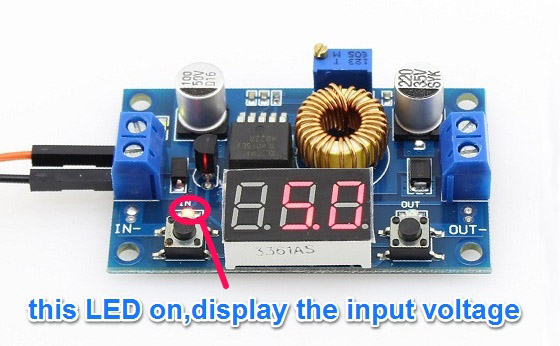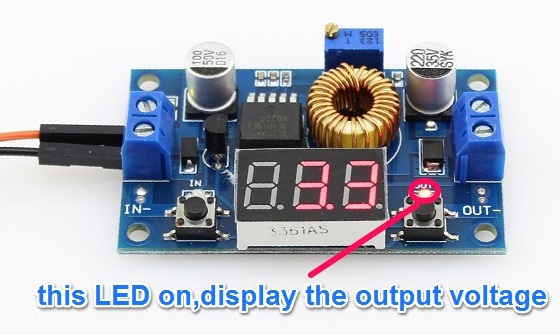 Specification
Input Voltage: 4V~38V (1.5V higher than the output at least)
Measurement Accuracy:±0.1V
Adjustable Output Voltage: 1.25V~35V.
Output Current: 5A
Dimension: 60mm x 37mm x 18mm
Wiki & External links
Comentarios
Escribir Comentario
OpenHacks
(15/02/2016 - 16:08)
Hola Andrés, sirve para esa función, siempre que la fuente de alimentación de entrada que utilices disponga de la potencia necesaria. La salida debería setearse en 5V. Saludos!
Andrés
(13/02/2016 - 10:12)
Hola tienen stock? Sirve para alimentar una Cubieboard2 con disco rígido?