Productos
Arduino GSM Shield 2 (antenna connector)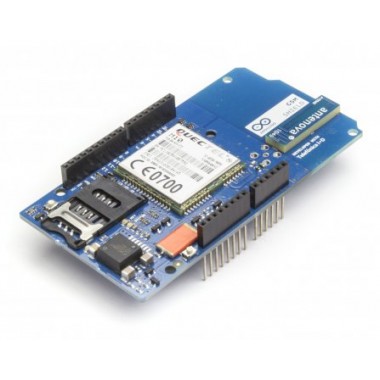 LIQUIDACION HASTA AGOTAR STOCK - Basado en el modem Quectel M10 , el shield Arduino GSM Shield permite a una placa Arduino conectarse a internet, realizar/recibir llamadas y enviar/recibir SMS.
COD: A000106
Peso: 0.100 Kg
Disponibilidad: Sin Stock

ARS 1811.00
El producto no está disponible para la venta en este momento
Características
The Arduino GSM Shield allows an Arduino board to connect to the internet, make/receive voice calls and send/receive SMS messages. The Shield uses a radio modem M10 by Quectel. It is possible to communicate with the board using AT commands. Use the GSM library to learn more about how to make sketches using one or more of the functions described. Arduino boards use digital pins 2 and 3 for software serial communication with the M10. Pin 2 is connected to the M10's.
TX pin and pin 3 to its RX pin. The modem's PWRKEY pin is connected to Arduino pin 7. The M10 is a Quad-band GSM/GPRS modem that works at frequencies GSM850MHz, GSM900MHz, DCS1800MHzand PCS1900MHz. It supports TCP/UDP and HTTP protocols through a GPRS connection. GPRS data downlink and uplink transfer speed maximum is 85.6 kbps. To interface with the cellular network, the board requires a SIM card provided by a network operator. See the getting started page for additional information on SIM usage.
The most recent revision of the board uses the 1.0 pinout on rev 3 of the Arduino UNO board.
If you want to give a closer look to this board we advice you to visit the official Arduino product page.
The GSM shield was developed with Movilforum
Comentarios
Escribir Comentario
OpenHacks
(21/04/2016 - 09:40)
Hola Walter, en aprox. 60 días tendremos nuevamente. Como alternativas, tenes: https://www.openhacks.com/page/productos/id/50/title/IComSat-v1.1---SIM900-GSM-GPRS-Shield https://www.openhacks.com/page/productos/id/546/title/ATWIN-Quad-band-GPRS-GSM-Shield-for-Arduino . Saludos!
walter bel
(20/04/2016 - 17:18)
Hola queria saber si tiene idea cuando pueden recibir este shield? Saludos Walter.