Productos
Makeblock Starter Robot Kit V2.0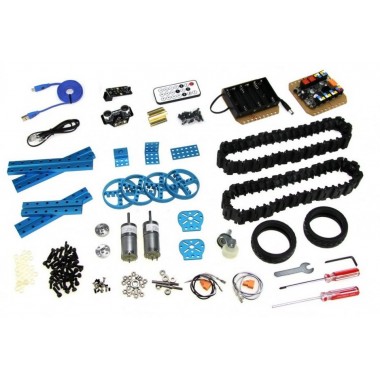 Kit con componentes mecánicos básicos y módulos electrónicos para explorar el mundo robótico.
COD: ER90004MB
Peso: 1.600 Kg
Disponibilidad: Sin Stock

ARS 17066.00
El producto no está disponible para la venta en este momento
Características
This Kit contains the basic mechanical parts and electronic modules for you to start exploring the robot world, it can be used to help you build mobile platforms such as a robot tank or a three-wheel robot car. The included Me series electronic modules are easy-to-use and really friendly to beginners, with these electronic modules, you can easily build an IR controlled robot or an ultrasonic obstacle-avoiding robot.
Features
Strong aluminum extrusion parts, corrosion resistant(long time to shelve with barely rusting) and beautiful appearance
Used to build a robot tank or a three-wheel robot car.
2-wheel drive moving platform
Tracked vehicle platform
Basic electronic modules for obstacle-avoiding included
Part List:
| | | |
| --- | --- | --- |
| 1 x Beam 0824-96 | 16 x Socket Cap Screw M4x8 | 12 x Plastic Rivet R4060 |
| 1 x Beam 0824-128 | 24 x Socket Cap Screw M4x14 | 6 x Plastic Rivet R4100 |
| 2 x Beam 0824-144 | 16 x Nut M4 | 30 x Plastic Ring 4x7x2mm |
| 1 x Bracket 3x3 | 1 x Nut M8 | 2 x BaseBracket |
| 1 x Plate 3x6 | 8 x Countersunk Screw M3x8 | 1 x Battery Holder for (6)AA |
| 1 x Bracket P3 | 8 x Headless Set Screw M3x5 | 1 x Me-Baseboard |
| 1 x Caster Wheel | 40 x Track Axle | 1 x Me-Ultrasonic Sensor |
| 2 x DC Motor-25 | 2 x Threaded Shaft 4x39mm | 1 x Me-IR Receiver |
| 2 x DC Motor-25 Bracket | 2 x Shaft Collar 4mm | 1 xMe-IR Remote Controller |
| 2 x Shaft Connector-4mm | 4 x Flange Bearing 4x8x3mm | 1 x 6P6C RJ25 cable-20cm |
| 4 x Timing Pulley 90T | 1 x HEX Screwdriver 3mm | 1 x 6P6C RJ25 cable-35cm |
| 2 x Tyre 68.5x22mm | 1 x Cross Screwdriver 3mm | 1 x Micro USB cable |
| 40 x Track | 2 x HEX Allen Key 1.5mm | |
| 1 x Wrench 7mm | 6 x Brass Stud M4*20 | |
Learning