Productos
Adjustable Step-Down DC/DC Converter (0.8V - 18V/3A)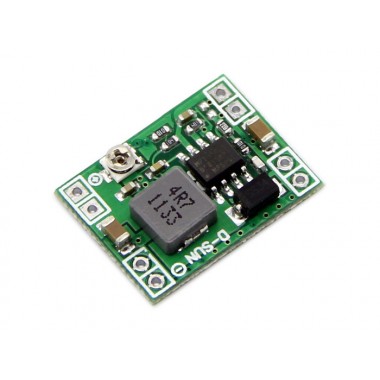 Convierte voltajes de entrada entre 4.5V y 28V a tensiones entre 0.8V y 18V, con una capacidad de corriente de 3A. Basado en el MP1584.
COD: SE800121001
Peso: 0.010 Kg
Disponibilidad: Sin Stock

ARS 301.00
El producto no está disponible para la venta en este momento
Características
This DC/DC step-down voltage converter is based on MP1584, it converts input voltage between 4.5V and 28V into a smaller voltage between 0.8V and 18V, capable of driving a 3A load with excellent line and load regulation.
Note: Input must be >1.5V higher than output! The chip will jumper to high temperature protection mode when it work at a high-power conversion, without any cooling, it is able to output 3A current at 5V. But at higher output voltage, the current output capacity is lower than 3A, the minimum is 2A.
Feature:
Wide 4.5V to 28V Operating Input Range
Up to 92% Efficiency
Programmable Switching Frequency from 100kHz to 1.5MHz
High-Efficiency Pulse Skipping Mode for Ceramic Capacitor Stable
Internally Set Current Limit without a Current Sensing Resistor
Cycle-by-Cycle Over Current Protection
Input Under Voltage Lockout
Specification:
Input Voltage: 4.5V-28VDC
Output Voltage: 0.8V-18VDC
Continuous Output Current: Max. 3A
Perk Output Current: 4A
Max. Efficiency: 92%
Output Ripple: <30mV
Switching Frequency: 100kHz to 1.5MHz
Operating Temperature: -40℃ to +85℃
Dimensions: 22mm*17mm*4mm(l*w*h)