Productos
Xbee ZigBee XB24CZ7UIS-004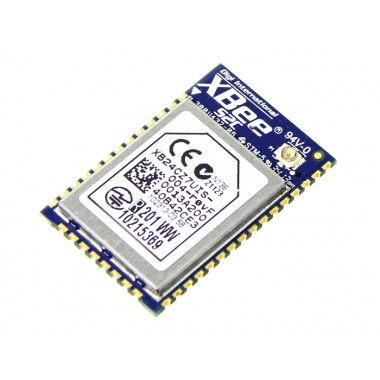 Módulo ZigBee de montaje superficial. Con capacidad de transferencia de hasta 250kbps y conector para antena externa.
COD: SE113990074
Peso: 0.010 Kg
Disponibilidad: En Stock

ARS 7857.00
El producto no está disponible para la venta en este momento
Características
XBee ZB embedded SMT RF modules provide cost-effective wireless connectivity to end-point devices in ZigBee mesh networks. They require no configuration or additional development; users can have their network up and running in a matter of minutes. Programmable versions of the SMT module make customizing ZigBee application easy, even without wireless design expertise. Features like binding and multicasting also allow for simple integration into a Home Automation device.
Features
Interoperability with ZigBee devices from other vendors
Firmware upgrades via UART, SPI or over the air
Supports binding and multicasting, for easy integration into a Home Automation platform
SMT form factor with side Castellations for easy soldering
Programmable ZigBee SMT available
Specification
Data Rate: RF 250 Kbps, Serial up to 1 Mbps
Indoor/Urban Range: 200 ft (60 m)
Outdoor/RF Line-of-Sight Range: 4000 ft (1200 m)
Transmit Power: 3.1 mW (+5 dBm) / 6.3 mW (+8 dBm) boost mode
Receiver Sensitivity: (1% PER) -100 dBm / -102 dBm boost mode
Serial Data Interface: UART, SPI
Configuration Method: API or AT commands, local or over-the-air
Frequency Band: ISM 2.4 GHz
Interference Immunity: DSSS (Direct Sequence Spread Spectrum)
ADC Inputs: (4) 10-bit ADC inputs
Digital I/O: 15
Antenna Options: PCB (embeded), U.FL and RF PAD
Operating Temperature: -40° C to +85° C
Dimensions (L x W) and Weight: 0.87 in x 1.33 in x 0.12 in (2.20 cm x 3.40 cm x 0.30 cm); 1.40 oz (40.00g)
Memory: N/A
CPU/Clock Speed: N/A
Networking and Security:
Protocol: ZigBee PRO 2007, HA-Ready with support for binding/multicasting
Encryption: 128-bit AES
Reliable Packet Delivery: Retries/Acknowledgments
IDs: PAN ID and addresses, cluster IDs and endpoints (optional)
Channels: 16 channels
Power Requirements:
Supply Voltage: 2.1 to 3.6V
Transmit Current: 33 mA @ 3.3 VDC /45 mA boost
Receive Current: 28 mA @ 3.3 VDC /31 mA boost mode
Power-Down Current: < 1 uA @ 25°C