Productos
Raspberry Pi B+ AD/DA Expansion Board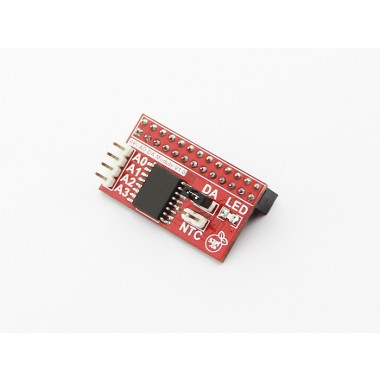 Módulo de conversión AD/DA para Raspberry Pi B+ basado en chip PCF8591T de 8 bits de resolución.
COD: SE103990060
Peso: 0.010 Kg
Disponibilidad: En Stock

ARS 5913.00
El producto no está disponible para la venta en este momento
Características
The DA/AD module is specifically designed for RaspberryPi. It communicated with RaspberryPi through I2C bus. There is a LED light on the board that you can adjust brightness through DA. The module supply 4 ADC channel through header on the left side of module and the thermistor interface. The user can choose according to actual demand and use them. The module is easy to use even you don't need to write C code. Because the module support wiringPi so you can use shell script to control it.
Produce Features
Use PCF8591T chip
DA/AD in one module
8bit high resolution DA/AD
Compatible with wiringPi
Supply thermistor and photoresistance
Port
Raspberry Pi connection port
Thermistor interface
4 external analog channel
Electric level switch jumper
LED of DA choice jumper
Product Parameters
Working voltage: 2.5V-6.0V
8-bit successive approximation A/D conversion
Multiplying DAC with one analog output
Analog voltage range from Vss to VDD
4 analog inputs configurable as single ended or differential inputs
Max sampling rate given by I2C-bus speed
−40°C to +85°C operation
Typical Application
Supply monitoring
Reference setting
Analog control loop