Productos
Google CardBoard Advanced Version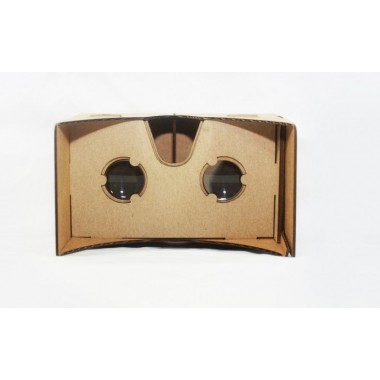 Google CardBoard - Colocando tu dipositivo android o iPhone en él, podes comenzar un tour de realidad virtual.
COD: EAP90843D2
Peso: 0.030 Kg
Disponibilidad: En Stock

ARS 3851.00
El producto no está disponible para la venta en este momento
Características
Compared with the famous virtual reality wearable gadget Oculus Rift, Google cardboard looks like a stumble packing paper at first glance. However, its simplicity makes it become one of the biggest surprises in Google I/O press event. Without any special hardware, you can directly fold the cardboards into its default shape. Just putting your android device, or iphone into it, you can start a virtual reality tour.
This advanced version of Google Cardboard has more reliable quality, all same with office version and more solid.
Partlist
Headband x1
Lens x2
Silver ring x1
Black ceramic magnets x1
Rubber band x1 and more
Bi-convex
Diameter 20mm
Focus Length 40mm
Machine Cutting Mould ( Not hand-cut or laser-cut )
Google App Suggest
Comentarios
Escribir Comentario
OpenHacks
(12/02/2016 - 09:20)
Hola Agustín, hasta 5 pulgadas debería servir (según comentarios, hasta 5.5" aún funciona). Saludos!
Agustin
(11/02/2016 - 18:11)
Buenas, este cardboard para celulares de hasta cuantas pulgadas sirve? Muchas gracias!