Productos
WireLess Gate Shield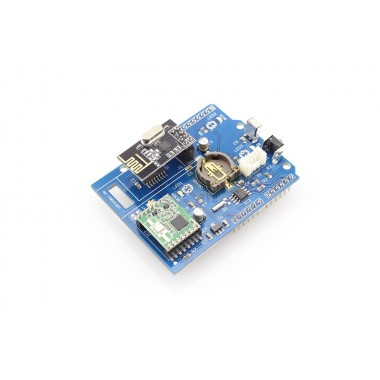 Gateway compatible Arduino con módulos RF de 2.4GHz y 433 MHz. Incluye RTC.
COD: ECDD67044WG
Peso: 0.025 Kg
Disponibilidad: En Stock

ARS 6167.00
El producto no está disponible para la venta en este momento
Características
WireLess Gate Shield is an Arduino-compatible expansion card designed to build a system of receiving / transmitting and broadcasting various wireless commands and data. For maximum coverage possible wireless communication interfaces on the board has an IR receiver interface for connecting popular transceiver nRF24L01 + and RFM69HW.
Additionally, the board has a real time clock module DS1307. It can be also used with the
NRF24L01+PA+LNA Wireless Module
as below:
Features
Interface to connect the transceiver to 2.4 GHz nRF24L01+
Interface to connect the transceiver to 443 MHz RFM69HW (HopeRF)
U.FL antenna connector for RFM69HW
LED automatic activity radio modules (with the possibility of removal)
LED for user
Real time clock module DS1307
IR receiver
One buttons to control (operate one analog pin)
GROVE-compatible connector: I2C
Features
WLGate Shield X 1
Wireless module nRF24L01 + X 1
Wireless module RFM69HW (443 MHz ) + X 1